3D Galaxy Moon Lamp
HURRY! ONLY 50 LEFT IN STOCK!
Sale Ends Once The timer Hits Zero!
Meet The Galaxy Moon Lamp, a meticulously-crafted beauty designed using high-quality NASA satellite images. Its rugged surface is reminiscent of a star in the night sky, boasting incredible detail guaranteed to steal the show whenever guests come over to play. 

Our state-of-the-art technology guarantees ultra-realistic design accuracy. Each and every lamp takes an incredible 26 hours to 3D print & is done individually.  
Specifications:
REMOTE CONTROL & TOUCH CONTROL

 

- It is an exciting experience to operate the moon lamp with just one touch or by remote control. The coolest thing about this lamp is that it will change colors every time it is gently tapped. Your kids will totally love it!
ADVANCED DECORATION LIGHT

 

- Displayed on a wooden stand, this lamp is a brilliant way to accentuate a courtyard, inner table, pathways, and parties, bringing you a mysterious and romantic atmosphere. With 16 lovely color modes for remote control and 7 fascinating color modes for touch control, this lamp changes color easily just by tapping the surface
RECHARGEABLE - Recharge your moon night light with the provided USB charging cable. Connects to any micro-usb adapter (not included).
BEAUTIFULLY DESIGNED - Using innovative 3D printing technology, every crater and mark has been carefully designed to reflect the moon's surface
One lamp with 16 colors!
Truly an interesting conversation piece, the 16 Colors allow you to imitates the stunning colors of real galaxies -- from an explosion of blue and purple to galactic hues of red, green, and silver. Change it with your mood! 
Buying for kids? Not a problem! 
We guarantee that the materials used to make it are 100% safe and non-toxic.
Our LEDs that light it are low energy and therefore produce very little heat meaning that even the smallest & curious of kids can enjoy and handle 
our Moon Lamp.
Package Contains:
1x Wireless 3D Galaxy Lamp
1x Micro USB Charging Cable
1x Wood Base
1x Remote
1x Instruction Manual
Our Guarantee: 
We are a family business with values just like your family, if you aren't happy then we aren't either! Send it back for a full refund, no questions asked...yes, it's really that simple.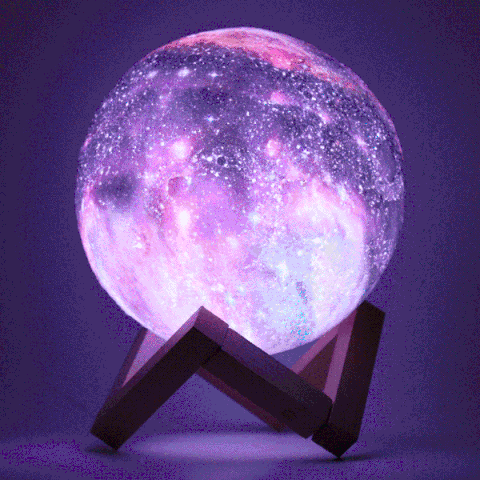 Customer Questions & Answers:
Q: How long does your moon lamp hold a charge?
A: The lamp will run 8-12 hours after fully charged.
Q: How long does it take to fully charge the moon lamp for use?
A: It will take 2-3 hours to fully charge our moon lamp. Q: This is beautiful! Is the wood stand included?
A: Yes! The wooden stand is included & very easy to assemble.
Q: What is your moon lamp made of?
A: Our moon lamp is made by PVC+ABS, non-toxic and environmentalfriendly material, it's absolutely safe for children to use.
Real time Visitor right now
Really impressed
Really impressed with the build quality of this product. I purchase the 15cm lamp and it is so cool! Love the colours. Easy to use and will look so good in the kids bedroom!
good quality
good quality, son was very happy with this lamp
kids love the product
my kids love the product..recieved it yesterday. sooner than expected.. packaging is really good.. might order a couple in few days
adorable
This lamp is so adorable I love it! I got the 10 CM one and it's the perfect size for my vanity. I'm in love!! Thank you so much :) probably going to buy more in the future as gifts for friends :)
Amazing
Daughter is very happy with her new lamp, looks amazing!!